How to colour your home in 2019
HOW TO COLOUR YOUR HOME IN 2019
Pantone revealed that "living coral" is the colour of the year for 2019, but what other colours are trending as we look towards Spring and Summer?
Dulux have recently suggested that "Spiced Honey" is one for the coming months, as they revealed it as there colour of the year for 2019. Spiced honey is a warm amber tone which can be used in many different palettes, offering cosy warm vibes or soothing and calming emotions, depending on the palette you pair it with. The versatility of this colour may be why it has been chosen as Dulux's colour of the year. It can also be paired with colours such as "floating petal", a pale pink tone which has been so popular in recent years. The look is somewhat something brought back from the 70's but paired with a modern palette can create a beautiful vibe in your home.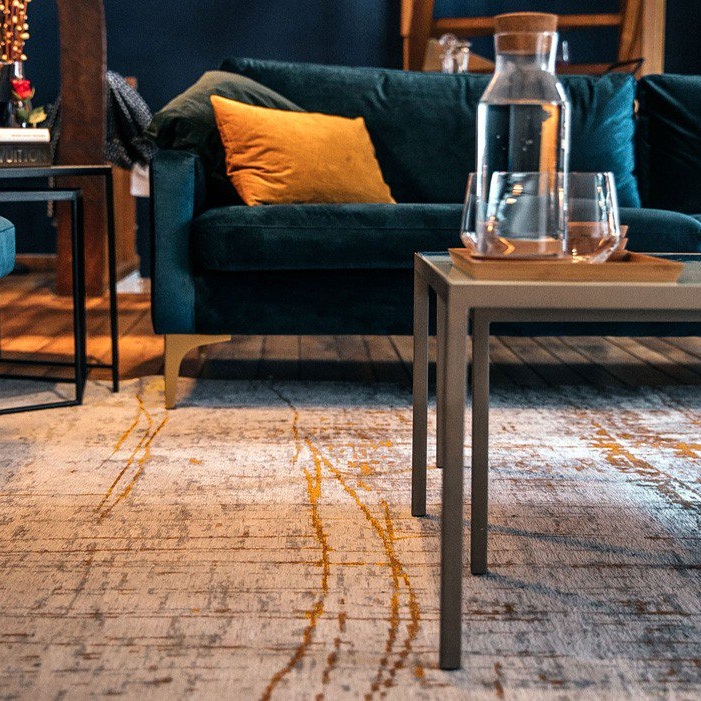 Louis De poortere Mad Men Collection Rug
The perfect addition to the Spiced Honey palette.
SHOP THE SPICED HONEY LOOK
A colour palette that has been around for a few years but doesn't seem show any signs of slowing down. With an emphasis on greener living and protecting our planet, the colours of nature appear to be making a move indoors. This started with indoor plants and the recent trend of potted plants, Cacti & Bonsai's. The palette of dark greens and blues will bring a feeling of nature and calm to any room. Originally colours of luxury, just hints of the Forest Green palette can add this element of luxury to your home.
Currently available in our Hayle showroom, a perfect pairing for the Forest Green palette. 15 Hayle Business Park, Hayle.
SHOP THE FOREST GREEN LOOK
A gorgeous set of calming coastal colours. This palette is the epitome of a calming vibe. Naval and midnight blues bring a sense of relax and night time to any room. Paired with light greys and white, the vibe completely changes to a coastal scene, such as the one shown off in the image below. Similar to Forrest Green, once a sign of luxury and gems, dark blues are a great way to add a hint of colour and luxury to your home. Blue colour palettes such as this have been trending for many years now and we don't see them disappearing anytime soon, especially in coastal properties.
Ex display Mastrella Havannah, perfect addition to the calming blues palette.
SHOP THE CALMING BLUE LOOK